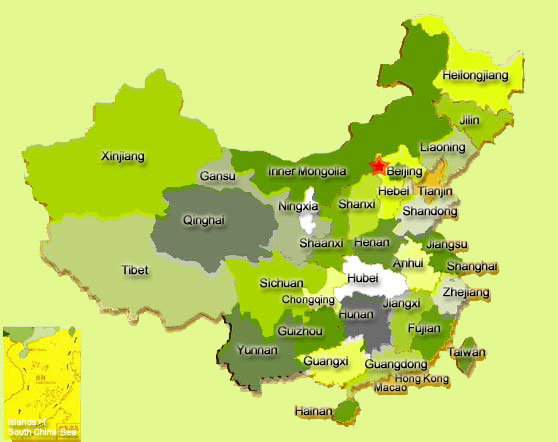 (Photo source: CRIENGLISH.com)
The city has shifted location several times in the past several thousand years, but the spatial dimensions have remained fairly constant over time. The present city center is 39:56' N, 116:20' E, at an elevation of 44.38 meters above sea level, the northwestern corner rising mere 10 meters above the southeast.
Originally the city stood on a slight ridge of land formed by alluvial deposits. This silted base, the edge of the North China Plain, was built up over time by the sand carried downstream through the mountains by the Yongding River in the west and the Chaobai River in the east.
In terms of outlying geographical features, the extensive Yanshan Mountain range forms a silvan screen to the northeast, the long, winding Taihang Mountain range to the west. Just beyond, to the northwest, the vast Mongolian plateau begins. The Gulf of Bohai lies 113 kilometers to the east and to the south, the vast North China Plain. Geologists call this small gulf-shaped plain surrounding Beijing the "Beijing Gulf" though in fact, the city sits off in its southwestern corner, Early writers described the setting with the sea on one side and the mountains in the background as a "heavenly paradise," a "city of the gods."
Beijing has a continental monsoon climate commonly found in the temperate zone. In winter, cold, dry winds blow out of Siberia and Mongolia in the northwest; in summer, warm, moist air currents from the southeast take over. A general change of wind direction occurs in March or April and again in September. Wind velocity in Beijing is comparatively low, averaging 2 meter/second. The average annual rainfall of 630 millimeters is regarded as a generous "heavenly endowment" for North China, which is otherwise predominantly dry and short of rain.
The coldest month in Beijing is January, with an average temperature of  4.7:C. The hottest month is July, with an average of 26.1:C. Rapid temperature increases in the spring are often accompanied by sandstorms, but windless days in that season are wonderfully pleasant. Autumn, though short-lived, is a concentrated stretch of clear, crisp days and patchwork trees.
Historically speaking, the mountains to the north, east and west acted as boundaries with outlying pasture lands. Communities in the presentday "Beijing Gulf" traded with the nomadic tribes who lived out beyond Gubeikou in the north and Nankou in the west and maintained frequent commercial contact with people of the central plain region settled along the Yellow River. It was trade and the pivotal role of the area as a center of commerce which gave rise to the ancient city of Ji. (China.org.cn)