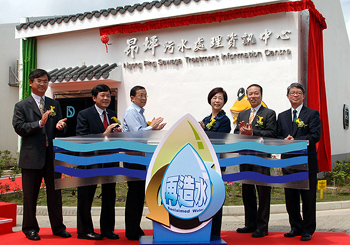 Secretary for the Environment, Transport & Works of HKSAR, Dr Sarah Liao joins guests at the Ngong Ping Sewage Treatment Works' opening in Hong Kong,  March 18, 2006. [Photo: Gov.hk]

The launch of the first tertiary sewage treatment plant and reclaimed water facilities built in Ngong Ping represents a major step towards possible wider application of water recyling, Secretary for the Environment, Transport & Works Dr Sarah Liao says.

Officiating at the Ngong Ping Sewage Treatment Works opening ceremony, Dr Liao pointed out the total water management scheme, which covers the key areas of water conservation, water resources protection and new water resources, is being implemented.

"One of the main initiatives in the scheme is implementing the pilot project on the use of reclaimed water in Ngong Ping," she added.

Ngong Ping Sewage Treatment Works uses advanced biological, filtering and disinfections process to treat sewage. It can treat about 3,000 cubic metres of sewage every day.

The tertiary treated water becomes reclaimed water after chlorination, which will be used for flushing in public toilets nearby and for rearing fish and controlled irrigation within the treatment plant. Reclaimed water will also be used for flushing in the Ngong Ping Cable Car Terminal and associated tourist facilities due to open in the middle of the year.

Wider scale pilot scheme planned

"There will be another wider scale pilot scheme on reclaimed water reuse to be implemented in Shek Wu Hui, North District later this year. Based on the experiences gained, the bureau and other departments concerned will assess the various aspects of the schemes including technology, administration, cost effectiveness and acceptance by the general public, and will study the possibility of extended use of reclaimed water," Dr Liao said.

Director of Drainage Services Wong Chi-keung said another characteristic of Ngong Ping Sewage Treatment Works is its design with rural features.

Due to its proximity to the Tian Tan Buddha Statue and the future cable car terminal, most of the facilities have been built underground while greening measures introduced and the height of the plant reduced to minimise the visual impact on the environment and to integrate the plant with the environment in harmony.

After the trees have grown, visitors looking down from the cable cars and the Buddha platform will see the advanced treatment plant blends well with the natural scenery.

Info centre set up

Inside the treatment plant, there is an information centre where exhibits, models, computer games and videos are featured to educate the public on tertiary sewage treatment, use of reclaimed water and the total water management concept in a simple and attractive way.

The centre will open to public tomorrow. Guided tours are available.

Costing about $240 million, the construction of the treatment plant started in August 2003 and was completed at the end of last year.