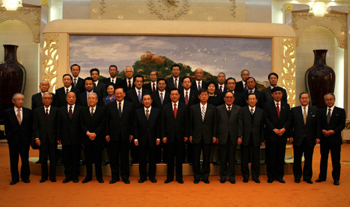 Chinese President Hu Jintao (C, front) meets with members of seven Japan-China friendship organizations based in Japan, at the Great Hall of the People in Beijing, China, March 31, 2006. [Xinhua Photo]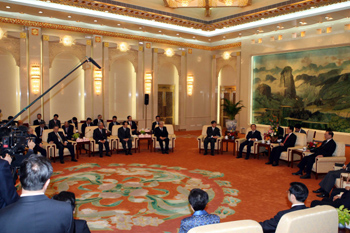 Chinese President Hu Jintao (2nd R) meets with members of seven Japan-China friendship organizations based in Japan, at the Great Hall of the People in Beijing, China, March 31, 2006.  [Xinhua Photo]
Chinese president Hu Jintao said in Beijing on Friday that the seven Japan-China friendship organizations based in Japan, which are making a concerted China visit, are the "backbone forces" in promoting the friendliness between the two countries.
These organizations serve as an "important bridge" for non-governmental exchange between the two countries and have done a lot of "helpful work" for the normalization of diplomatic ties and the promotion of friendliness between the two countries, said the president while meeting the heads of the organizations at the Great Hall of the People in downtown Beijing.
Noting that China-Japan relations are in a difficult period for the time being, Hu said that the Japanese organizations' current visit and their exchange and dialogue with relevant Chinese bodies have displayed the "benign wish" of the two peoples to improve bilateral relations.
The visit will contribute to shoring up mutual understanding, friendship and relations between the two countries, said the president.
The seven organizations, which have come as the guests of the China-Japan Friendship Association, are namely the Japanese Council for the Promotion of International Trade, Association of Dietmen League for Japan-China Friendship, Japan-China Friendship Association, Japan-China Cultural Exchange Association, Japan-China Association on Economy and Trade, Japan-China Society, and Japan-China Friendship Center.
The heads of the organizations include former Japanese Prime Minister Ryutaro Hashimoto and former Foreign Minister Masahiko Komura.
Related Story:
Japan-China organizations heads visit China
Heads of seven Japan-China friendship organizations from Japan arrived in Beijing Thursday for their first joint visit to China.
The Chinese leaders will meet with the Japanese guests, according to sources with the Foreign Ministry.
During their three-day stay in China, they will exchange views with people in charge of relevant organizations from the Chinese side on how to increase non-governmental exchanges and promote the growth of bilateral relations.