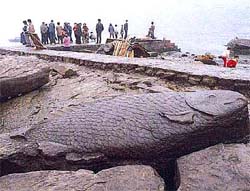 Baiheliang, the world's oldest water survey recordings, will be submerged once the Three Gorges reservoir is filled in 2009.  (Photo: CAS.cn)
As a brainchild of the Chinese Academy of Sciences (CAS) researchers, the construction of the main body of an underwater museum to protect Baiheliang, the world's oldest water survey recordings to be submerged once the Three Gorges reservoir is filled, has been recently finished. The museum is expected to open to the public in June 2007.
Located at the mainstream of the Yangtze River to the north of Fuling District of Chongqing Municipality, Baiheliang (meaning White Crane Ridge in Chinese) is a 1.6 km-long and 16 km-wide reef. Because Baiheliang only emerges from the water during dry seasons, it was a very important marker for ancestors to observe the changes in the water level and to predict if they could have a good harvest.
Ancient people carved many carp-shaped marks on the massive reef to record the low water and floods of the River. The history of the stone carp carvings could be traced back to 763AD in the Tang Dynasty, and the existing inscription with the earliest dating record was in 971. It had made records of 72 low-water years over the past 1,200, and is regarded as the oldest hydrological station in the world. In addition, it is carved with 30,000 characters of Chinese poems left from different dynasties.
However, this massive reef will be inundated by the on-going Three Gorges Reservoir Project. It will be about 40 meters below the water surface when the whole project is completed by 2009. To ensure those precious cultural relics receive appropriate protection, the Chinese Government has started research into ways to protect Baiheliang. Experts offered several proposals.
Accepted was the solution proposed by Prof. Ge Xiurun, an expert on rock mechanics from the CAS Wuhan Institute of Rock and Soil Mechanics and a member of the Chinese Academy of Engineering. He suggested the covering of the Baiheliang reef by a water pressure-free container with an arch shape. Fresh water will be instilled in the container, making its inside and outside water pressure balanced. Two underwater channels will be built from the river bank, so visitors can see the stone inscriptions on Baiheliang by walking through the underwater channel. More than 10 thousand underwater LED lighting will be installed so visitors will be able to view the inscriptions via the glass protection windows.
Started in 2002, construction will cost about 140 million yuan (about US$17 million).