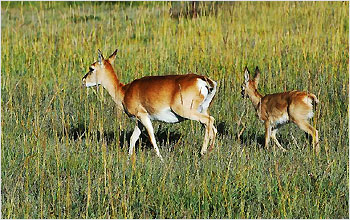 The photo taken on June 10, 2006 shows antelopes beside the Qinghai Lake (or Koko Nor Lake) in northwest China's Qinghai Province. [Xinhua Photo]

Tibetan antelopes migrate along the Qinghai-Tibet railway in northwest China's Qinghai Province, May 22, 2006. In order to reduce the negative impact of the railway construction on the lives of wild animals, special passageways were built for wild animals to cross the railway. Now Tibetan antelopes have adapted to the existence of the railway and more than 300 antelopes crossed the railway from the middle of May this year. [Xinhua Photo]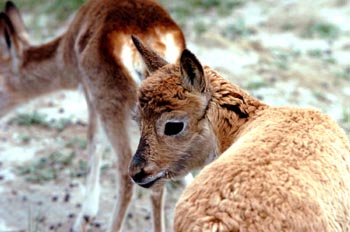 Tibetan antelopes migrate along the Qinghai-Tibet railway in northwest China's Qinghai Province, May 22, 2006. [Xinhua Photo]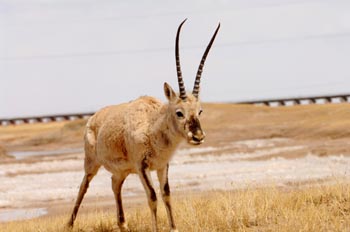 A Tibetan antelope is standing besides the Qinghai-Tibet railway in Lhasa, capital of southwest China's Tibet Autonomous Region, May 18, 2006. [Xinhua Photo]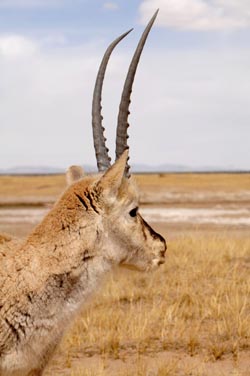 A Tibetan antelope looks at the Qinghai-Tibet railway in Lhasa, capital of southwest China's Tibet Autonomous Region, May 18, 2006. [Xinhua Photo]
Endangered Tibetan antelopes are getting used to the Qinghai-Tibet railway scheduled to open to tourists on July 1, said officials with the Hoh Xil National Nature Reserve Administration.
A first batch of 67 pregnant antelopes from the eastern part of the reserve crossed Wubei bridge of the Qinghai-Tibet railway on May 16 to give birth in the hinterland, according to Gelai, head of Wudaoliang station in the Hoh Xil reserve.
About 1,000 antelopes have crossed the railway via special passages so far, Gelai said.
"Tibetan antelopes started migrating earlier this year than the past few years. They no longer hesitate and cross the railway with ease," said Cega, director of the reserve administration in Qinghai Province.
China has put environmental protection on the top of its agenda in the construction of the Qinghai-Tibet railway, Cega said.
Workers built 33 passages for animals along the railway, the first time in China's history of railway construction.
Rangers and volunteers in the Hoh Xil reserve also stopped vehicles on highways when they found antelopes were crossing.
The 1,956-kilometer-long Qinghai-Tibet railway is the world's highest and longest plateau railroad and also the first railway connecting the Tibet Autonomous Region with other parts of China.