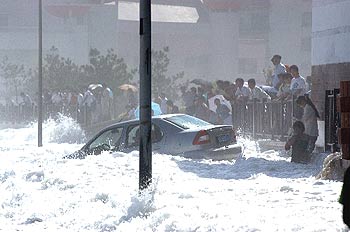 A car is trapped in waves surged by strong winds on a seashore road in Qingdao, a coastal city in east China's Shandong Province, July 10, 2006. Affected by Typhoon Ewiniar, the third this year, high waves were surged in the sea near Qingdao, causing temporary danger in some areas. [Xinhua Photo]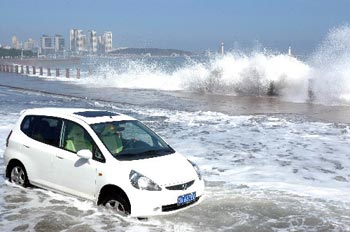 A car is trapped in waves surged by strong winds on a seashore road in Qingdao, a coastal city in east China's Shandong Province, July 10, 2006. Affected by Typhoon Ewiniar, the third this year, high waves were surged in the sea near Qingdao, causing temporary danger in some areas.[Xinhua Photo]
Ewiniar, the third strong typhoon this year, has weakened into a tropical storm on Monday and is leaving China for the Republic of Korea (ROK).
East China's Shandong provincial observatory said at 11:00 a.m. Monday that Ewiniar had entered the central and northern parts of the Yellow Sea and is moving toward the Korean Peninsula at the speed of 20 kilometers per hour.
Zhou Xuesong, forecaster of the observatory, said Ewiniar brought about winds measuring five to six on the Beaufort Scale on the sea, but brought hardly any influence to the province.
From 6:00 to 12:00 a.m. Monday, the average precipitation in Shandong was 3.4 millimeters and the precipitation mainly concentrated in the southern and eastern parts of the province.