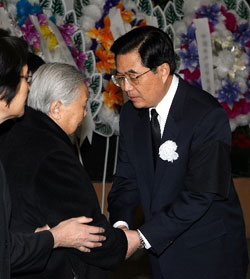 President Hu Jintao shakes hands with Hong Xuezhi's relative at the Babaoshan Cemetery on Monday in Beijing. [Xinhua Photo]


A host of senior Chinese leaders turned out on Monday to bid a final farewell to revolutionary hero and former general Hong Xuezhi who was cremated at the Babaoshan Cemetery in Beijing.

Hong Xuezhi, who died on Nov. 20 aged 94, was honored as "excellent" member of the Communist Party of China (CPC), a time-tested, loyal Communist fighter, a proletarian revolutionary and soldier.

President Hu Jintao, top legislator Wu Bangguo, Premier Wen Jiabao, and other state and Party leaders Jia Qinglin, Zeng Qinghong and Li Changchun attended the funeral.

Hong, a native of Jinzhai County, Anhui Province, was born on Feb. 2, 1913.

Hong joined a CPC-led village-based armed force in 1928 and the Chicheng Guerilla corps in 1929. He was admitted to the CPC in May1929. In December 1929, he joined the CPC-led Chinese Workers' and Peasants' Red Army. He participated in the Long March in the mid-1930s.

During the Anti-Japanese War (1937-45) and the Liberation War (1946-49), Hong took a series of positions in the CPC-led armed forces.

Hong was a deputy to the commander Peng Dehuai and later the commander of the Chinese People's Volunteers in the Korean War (1950-53).

From 1954, Hong was mainly in charge of the army's logistics arm and weapons manufacturing, except from 1959 to 1974, when he worked in local government in Jilin Province or was detained for political reasons.

Hong was a vice chairman of the Seventh and Eighth National Committees of the Chinese People's Political Consultative Conference (CPPCC), a former member and deputy secretary-general of the Central Military Commission (CMC).

Hu Jintao, former president Jiang Zemin, and state and Party leaders Wu Bangguo, Wen Jiabao, Jia Qinglin, Zeng Qinghong, Huang Ju, Wu Guanzheng, Li Changchun and Luo Gan visited Hong when he was in hospital or paid their condolences to his family after his death.