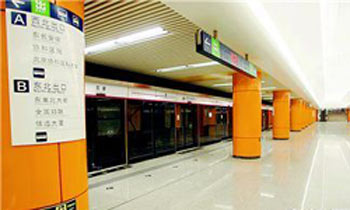 Beijing opened a new subway line on Sunday in a bid to boost public transport and ease road congestion ahead of the Olympics. Oct. 7, 2007.[Xinhua Photo]


Beijing opened a new subway line on Sunday in a bid to boost public transport and ease road congestion ahead of the Olympics.

Beijing's No. 5 subway line, which runs through the heart of the city from north to south, opened at 2:00 p.m. on Sunday, when the week-long National Day holiday ended.

The 27.6-km line, after nearly five years' construction, is installed with 23 stations and runs from Tiantongyuan North Station in northern Beijing's Changping district to Songjiazhuang Station in southern Fengtai district.

"The launch of the No. 5 subway line indicates that Beijing's rail transport is on a track of fast development," said Liu Qi, a member of the Political Bureau of the CPC (Communist Party of China) Central Committee and secretary of the CPC Beijing Municipal Committee, at the opening ceremony.

"It is of great significance for the city to ease traffic pressure, provide easier transport for the public, ... speed up construction of Olympic infrastructure, and ensure a high-level Olympic Games," he said.

Equipped with a wireless communication network, live broadcasts will be provided on televisions installed in each subway car and passengers will never lose the signal on their mobile phones.

The subway cars are wider and taller than the ones operating on the older lines and are designed to reach speeds of 80 km per hour. Elevators designed to aid disabled people have been installed.

Construction of the new subway line began in December 2002 and involved 12 billion yuan (about 1.6 billion U.S. dollars) in investment.

Prior to this, Beijing had four subway lines with a total mileage of 114 km transporting about 1.15 million passengers daily,15 percent of the total commuters.

According to the municipal government, Beijing will add three subway lines next year and the total mileage will reach 200 km.

The launch of the new subway line is among Beijing's recent efforts to boost public transport, ease road congestion and improve air quality ahead of the Olympics.

Also on Sunday, a new subway pricing system was adopted, cutting subway fares by about 30 percent. Now a one-way ticket costs just two yuan (27 U.S. cents), nearly the price of a bottle of purified water, no matter how long one travels and how many times one transfers between lines.

"The urban public transport should be given priority...and the related services should be improved consistently," Chinese Vice Premier Zeng Peiyan told the opening ceremony.

Local people lined up in front of the ticket offices of the new subway line on Sunday morning to enjoy the new service first or just to buy a commemorative ticket.

"I used to spend more than an hour and change subway lines twice for work, but now I can save 20 minutes and only need to change once with the opening of the new line," said Wang Jing, a local resident.

"Besides, I can save one yuan each time," she said.

Taking into account the inevitable rise of the number of subway passengers, local traffic authorities have promised to increase subway trains and shorten intervals between trains to boost the transport capacity.

Meanwhile, the government will increase expenditure on public transport by 1 billion yuan (133 million U.S. dollars) annually after the single price scheme is adopted, Liu Tongliang, head of the Beijing Municipal Transportation Administration Bureau, has said.

Road congestion has been a major problem yet to be solved for the Chinese capital, a city with a population of 16 million and more than 3 million registered vehicles, and citizens have been urged to take public transport to ease traffic pressure.

Before the launch of the new subway line and the reduction of subway fares, the municipal government has been giving discounts of up to 60 percent for residents -- and even 80 percent for students --- for bus tickets since the beginning of this year to encourage people to choose public transport.

"The city aims to raise the proportion of citizens choosing public transport from current 30 percent to 45 percent by 2015, and the subway passenger volume will increase to 8 million a day from current 2.2 million," said Zhou Nansen, of the Beijing Municipal Commission of Urban Planning.

To achieve this goal, Beijing will raise the number of buses from 18,000 to 21,000 by 2010, and extend the metro line from present 114 km to at least 270 km, according to Liu Xiaoming, deputy director of the Beijing Municipal Commission of Communications.

As the host of next year's Olympic Games, Beijing has been working on easing traffic congestion, reducing environmental pollution and improving air quality to ensure "Green Olympics."

The municipal government has urged local residents to less drive private cars, which numbers more than 2 million in the city, to reduce pollution of auto exhaust, such as the launch of "no car day."

The city is also considering a traffic ban during the period ofOlympics, in which drivers with even-numbered and odd-numbered license plates, excluding taxis, buses and emergency vehicles, will be told to stay off the roads on alternate dates or face fines.

During a four-day test of the traffic ban launched from Aug. 17to 20, about 1.3 million cars were barred from the city roads each day and the amount of pollutants discharged was cut by 5,815.2 tons, according to a report released by Beijing Municipal Environmental Protection Bureau.