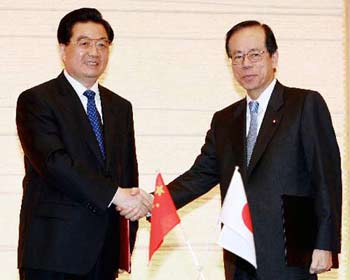 Chinese President Hu Jintao (L) shakes hands with Japanese Prime Minister Yasuo Fukuda after signing a joint statement in Tokyo, May 7, 2008. [Xinhua Photo]
Chinese President Hu Jintao and Japanese Prime Minister Yasuo Fukuda signed in Tokyo Wednesday a six-point Sino-Japanese joint statement on all-round promotion of their strategic and mutually beneficial relations.
BILATERAL RELATIONS
Both sides agree that the Sino-Japanese relationship is one of the most important bilateral ties for both countries. China and Japan have great influence and shoulder solemn responsibilities for peace, stability and development in the Asia-Pacific region and the world at large.
Long-term peaceful and friendly cooperation is the only choice of the two countries. Both sides are dedicated to promoting a strategic and mutually beneficial relationship in an all-round way to realize the lofty goal of peaceful coexistence, friendship from generation to generation, mutually beneficial cooperation and common development.
POLITICAL BASIS FOR STABLE DEVELOPMENT OF RELATIONS
Both sides reiterate that the China-Japan Joint Statement issued on Sept. 29, 1972, the China-Japan Treaty of Peace and Friendship signed on Aug. 12, 1978, and the China-Japan Joint Declaration released on Nov. 26, 1998 constitute the political basis for the stable development of Sino-Japanese relations and the opening up of a bright future.
The two sides reaffirm their continuous adherence to the consensus reached in joint press communiques between Oct. 8, 2006 and April 11, 2007 and their commitment for the comprehensive implementation of the consensus.
NEW SITUATION OF SINO-JAPANESE RELATIONS
The two sides agree to face history squarely, look forward to the future and make continuous joint effort to open up new prospect in their strategic mutually beneficial relations. The two sides will continue to build up mutual understanding and trust, expand mutually beneficial cooperation, and make sure that the future development of Sino-Japanese relations conforms with the trend of the world's development, and jointly create a bright future for Asia-Pacific region and the world at large.
COOPERATIVE PARTNERSHIP
The two countries reaffirm that they are cooperation partners, with neither side posing threat to the other. Both countries reiterate that they will support each other in its peaceful development and both are convinced that China and Japan, with both countries committed to peace and development, will bring enormous opportunities and benefits to Asia and the world.
Japan highly evaluates China's development since its reforms and opening-up and its commitment to contribute to building a world of lasting peace and common prosperity. While China speaks highly of Japan's adherence to the path of a peaceful country in the past six decades and more since World War II and its contribution, through peaceful means, to world peace and stability.
Both sides agree to strengthen dialogue and communication on the U.N. reform and seek more consensus. China values Japan's status and role in the United Nations and is willing to see Japan play a bigger and more constructive role in international affairs.
ISSUE OF TAIWAN
Japan reiterates adherence to its stance declared in the Japanese-Sino Joint Statement on the Taiwan issue.
ALL-AROUND COOPERATION
Both sides agree to a mechanism for high-level regular visits between leaders of the two nations, strengthen communication and dialogue between the governments, parliaments and political parties of the two countries, enhance exchange of views on bilateral ties, domestic and foreign policies, and the world situation. The two sides will also increase the exchange of high-level visits in the security sector to promote mutual understanding and trust.
The two sides pledge to expand the exchanges of media, sister cities, sports and civilian groups between the two countries, and consistently promote exchanges of youngsters in a bid to enhance mutual understanding between the two peoples.
Both sides decide to strengthen mutually beneficial cooperation in various fields, including energy, environment, trade, investment, information and communication technology, finance, food and product safety, protection of intellectual property rightand business environment.
They are also keen on the development of bilateral cooperation in farming, forestry, fishery, transportation, tourism, water resources, medical care and others sectors.
Japan and China will make an effective use of the summit economic talks between the two countries proceeding from a strategic perspective.
The two nations also pledge to work together and make the East China Sea a sea of peace, cooperation and friendship.
The two sides agree that China and Japan, as two important countries in the Asia-Pacific region, will keep close communication over regional affairs and strengthen coordination and cooperation.
The two sides decide to jointly safeguard peace and stability in Northeast Asia and facilitate the process of six party-talks.
The two sides agree that the normalization of relations between Japan and the Democratic People's Republic of Korea is of great significance for peace and stability in Northeast Asia. China welcomes and supports the two countries efforts to resolve relevant issues and realize normalization of their bilateral ties.
The two sides agree to promote regional cooperation in East Asia and contribute to building a peaceful, prosperous, stable and open Asia in line with the principle of opening-up, transparency and tolerance.
Noting that they bear greater responsibilities for world peace and development in the 21st century, the two countries are ready to enhance coordination over important international issues in a joint effort to build a world of lasting peace and common prosperity.
The two sides decide to cooperate in coping with climate change after 2012 within the framework of the United Nations Framework Convention on Climate Change and in line with the principle of "common but differentiated responsibilities and respective capabilities" and the Bali Roadmap.