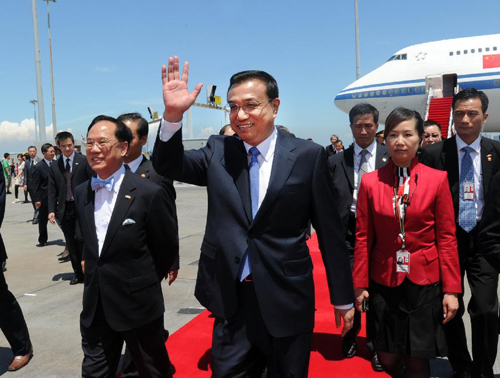 Chinese Vice Premier Li Keqiang (Front) arrives in Hong Kong, south China, Aug. 16, 2011. (Xinhua Photo)
Vice Premier Li Keqiang had a tea gathering with some 30 Hong Kong-based businesspeople and professionals on Tuesday afternoon, listening to their views on Hong Kong's future development and economic cooperation between the mainland and the region.
Li is on a three-day visit to the Hong Kong Special Administrative Region. During the conversation, Li said businesspeople and professionals have long played an irreplaceable role in Hong Kong' s development. He expressed hope that they could continue playing their parts and contributing to Hong Kong's prosperity.
Li also said the mainland will further open up to Hong Kong 's service industry, which will help improve service cooperation level between the mainland and Hong Kong.
Heads of Hong Kong's major business associations joined in the tea gathering and gave their views.
The meeting was quite practical, with topics mainly focusing on trade and industrial issues, Vice Chairman of Hong Kong China Chamber of Commerce Fang Fang told Xinhua.