Traditionally the main inland access city for travelers on route to mystical Tibet, or a cruise up the mighty Yangtze River, Chengdu (meaning "successful big city")has a history of nearly 4,000 years, leading many historians to regard it as the oldest established city in the world.
Once the starting point of the southern Silk Road, Chengdu boasts a string of global firsts. It was here where farmers made use of the first irrigation system (250BC) and shoppers used the first paper money (960-1126AD).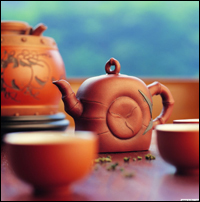 Tea House[Photo: CRIENGLISH.com]
Still feeding that irrigation system today, the Fu Nan River is an essential part of Chengdu's make-up. It was apparently thanks to the efforts of local school children that this river is today pollution free. A campaign lasting 10 years got the city's main artery flowing green and clean, drawing joggers and tea drinkers to its banks in scenes reminiscent of Europe.
The city's gleaming high rises and opulent department stores almost camouflage its most valuable asset the traditional teahouse. Wherever you turn here you'll find people sitting passing the time, sipping tea.
Locals have a saying, "When people have five hours to spare in Beijing, they use the time to look for a job. In Chengdu, you would use two hours to shop, cook and eat. The other three hours, you would spend in a teahouse." Tea seems to be embedded in the DNA of these folk, and if China has the best teahouses in the world, Chengdu has the best teahouses in China. Jasmine is the tea of choice and I have it on good authority that sitting on a bamboo chair enhances the experience. Teahouses also function as places to exchange gossip, like a word of mouth daily newspaper, where the last speaker becomes the editor.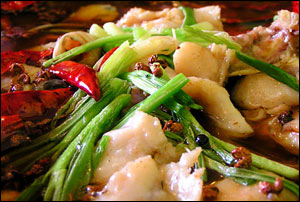 Shuizhuyu (fish slices stewed with chilli and pepper), one of Chengdu's famous spicy dishes.[Photo: CRIENGLSIH.com]


Finding a place to have tea is like looking for sand on a beach. Take a walk around the craft markets, flea markets, commercial districts, underground shopping malls, you'll trip over them in every nook and alley. When you're not sipping tea, there's a more than even chance you'll be eating. Chengdu has a reputation as the culinary capital of China, but beware your gastronomic delights are bound to be a baptism of fire. Sichuan food has a double-edged way of introducing itself, it's spicy and flavor loaded, but it renders your mouth numb.