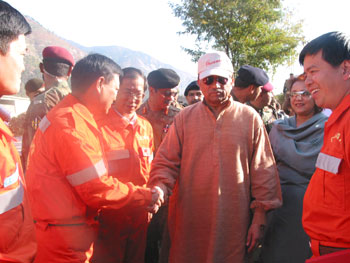 Pakistani President Pervez Musharraf (C) greets a member of Chinese rescue team outsides the Chinese mobile hospital in Balacot, Pakistan, Nov. 4, 2005. Musharraf and his wife(2nd R) visited Friday the mobile hospital of the China International Search and Rescue (CISAR), which is the only foreign rescue organization they visited during their inspection in Balakot. [Xinhua Photo]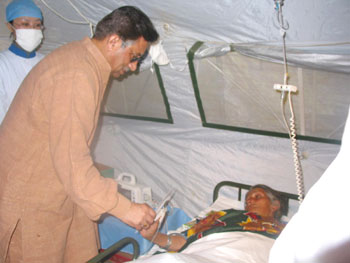 Pakistani President Pervez Musharraf (L) shakes hands with a survior in the mobile hospital set by Chinese rescue team in Balacot, a quake-stricken area in Pakistan, Nov. 4, 2005. [Xinhua Photo]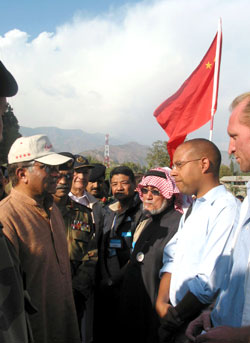 Pakistani President Pervez Musharraf (1st L) meets with the delegates of some international organizations and rescue teams in front of a mobile hospital set by Chinese rescue team in Balacot, a quake-stricken area in Pakistan, Nov. 4, 2005. [Xinhua Photo]
The Pakistani people will never forget the help and friendship the Chinese people give us, said the Pakistani President Pervez Musharraf Thursday afternoon, in disaster-hit Balakot of northwest Pakistan.
Musharraf made the remarks when visiting the mobile hospital of the China International Search and Rescue (CISAR), which is the only foreign rescue organization he visited during his inspection in Balakot.
Speaking highly of CISAR's hard work, Musharraf said he wants to express his personal gratitude and the Pakistani people's appreciation to the Chinese government and the Chinese people, who brought to the disaster-hit victims advanced medical service.
CISAR's director Zhao Heping said China and Pakistan are good neighbors and good friends. After the earthquake, the Chinese government and the Chinese people have shown great concern to the safety of the people living in disaster-hit areas.
The first group of the CISAR was dispatched to Pakistan as soon as the earthquake happened, and saved three survivals and gave emergency treatment to 591 injured.
This time, Zhao said, the second group of CISAR was equipped with further medical facilities. Eight woman medical staffs were assigned to join the team in case the men doctors could not give treatment to the Pakistani women due to local customs.
Zhao stressed that Balakot gained rapid progress in disaster-relief work, under the leadership of the Pakistani government and military force. The CISAR will further join hands with the local government and troop to better serve the local people.
Musharraf and his wife gave out pension to patients in the mobile hospital and presented the CISAR with sweets for the Festival of Fast-Breaking falling on Thursday. The CISAR also presented the flag of the team to the president.
Musharraf also met with representative of international rescue organizations on the spot.