Wired fence replaced by passageway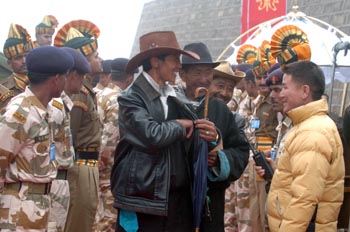 Traders (C) from China's Tibet Autonomous Region enter India through the Nathu La Pass on the border between China and India July 6, 2006. [Xinhua Photo]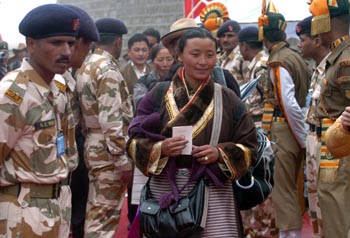 Traders (C) from China's Tibet Autonomous Region enter India through the Nathu La Pass on the border between China and India July 6, 2006. [Xinhua Photo]
Wired fences, used to block the two sides, have been replaced by the 20-meter-long stone-walled passageway. At its both ends banners were hung high for the reopening border trade ceremony.
Six km down from Nathu La Pass, 4,545 meters above the sea level, lies a small village named Sherathang, now the main business hub for Chinese to trade the commodities in Indian side. In an area of 3.24 hectares, 29 tin sheds have been built to hold offices for customs, immigration and quarantine, security post, post office, a telecommunication center and a branch of the State Bank of India.
China has placed its trade mart at Renqinggang, some 10 km from Nathu La Pass in Chinese side.
"This is the beginning of a new era of hope and prosperity and the improving of bilateral ties between both nations," Qiangba Puncog, Chairman of the Tibet Autonomous Region, said in his remarks at the ceremony.
On the same occasion, Sikkim Chief Minister Pawan Kumar Chamling said, "this is not just a trade route, but a cultural highway. It will take India-China trade to new heights."
A Chinese delegation of about 100 Tibetan businessmen has crossed over the pass to the Indian side while a group of 100 Indian traders visited the trade mart at Renqinggang.
According to the agreements between the two countries, the normal trade will begin at Nathu La Pass on June 1 each year and continue till Sept. 30 before the heavy snow and freezing weather makes the pass impassable.
During the trading season, the pass will open from Monday to Thursday each week from 7:30 a.m. to 3:30 p.m.
"A total of 100 traders and 60 trucks carrying goods will be allowed to operate from either side of the border," said Saman Prasad Subba, Director of Industries of Sikkim.
According to Chinese ambassador to India Sun Yuxi, China expects the border will soon open for tourists and a bus service from Gangtok, the state capital of Sikkim, to Lhasa, capital of Tibet, will open very soon.