Profitable future welcomed by Indians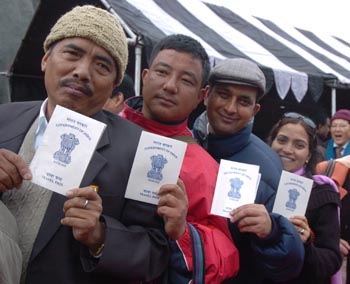 Indian traders holding their travel passes wait to enter China's Tibet Autonomous Region at the Nathu La Pass on the border between China and India July 6, 2006. China and India restarted border trade Thursday by opening the Nathu La Pass between Yadong County of China's Tibet and India's Sikkim State. The Nathu La Pass, which sits 4,545 meters above the sea level, was a major trading point between the two countries before it was closed in 1962 following a border conflict. [Xinhua Photo]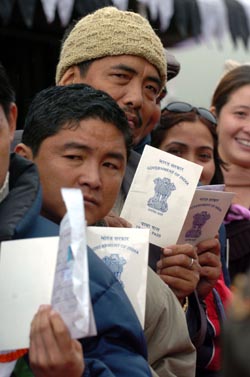 Indian traders holding their passes wait to enter China's Tibet Autonomous Region at the Nathu La Pass on the border between China and India July 6, 2006.[Xinhua Photo]
"We are so happy today as we have looked forward to it long before," said Mamhjer, 47-year-old Sikkimese merchant and one of Indian businessmen to visit Yadong in Tibet through Nathu La Pass Thursday.
Mamhjer's family has done business with Tibet for generations. His parents had once lived in Yadong for five years and his elder sister was born there.
"My papa passed away last year, otherwise he would be with me to go to Yadong today," Mamhjer said, adding that his father had been excited and planned to go back to Yadong a few years ago when the news of reopening first spread.
The volume of trade would increase by at least 15-20 percent in next two years, according to the research of the Sikkim government.
As the trade progresses, the two countries are going to look at the feasibility of upgrading the tradable items though now only 44items of commodities are allowed through Nathu La Pass and India only issues trade permits to local Sikkimese residents.
"The reopening of border trade is seen as an instrument for economic development for this region," Chamling said.
In Gangtok many people are very much curious about China and show great interest in shopping Chinese goods which are less expensive with good quality.
Meanwhile, in New Delhi where conservatives were concerned about defense security related to Nathu La Pass reopening, some agreed with local residents in Sikkim.
"India and China should have resumed the border trade at NathuLa Pass earlier. The world is different now. Who wants a war?" said Vijay Kumar, an Indian businessmen in New Delhi having traded iron ore with China for a long time.
Nathu La Pass reopening also make it possible to build a trade corridor linking northwest China, even central Asia, to the Indian Ocean as the Qinghai-Tibet railway happens to start operation on July 1.
"The smooth corridor will benefit both China and India and help make a close cooperative mechanism between the two countries," said Srikanth Kondapalli, expert with India's Institute for Defense Studies and Analyses.