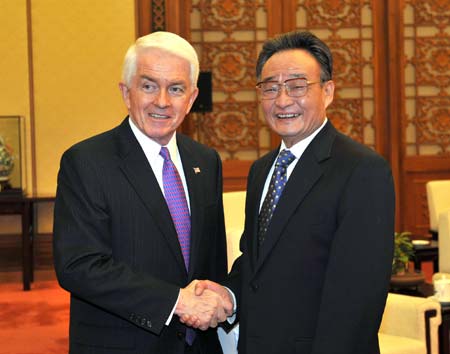 Wu Bangguo (R), chairman of the Standing Committee of the National People's Congress of China, meets with a U.S. Chamber of Commerce delegation led by President Thomas Donohue in Beijing, capital of China, Jan. 13, 2009. (Xinhua Photo)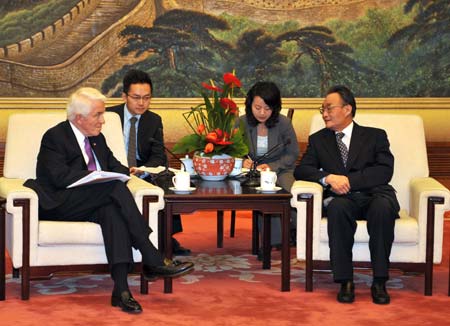 Wu Bangguo (R), chairman of the Standing Committee of the National People's Congress of China, meets with a U.S. Chamber of Commerce delegation led by President Thomas Donohue in Beijing, capital of China, Jan. 13, 2009. (Xinhua Photo)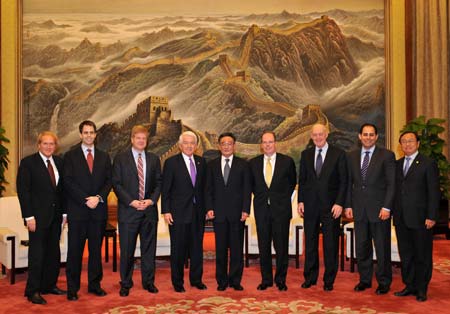 Wu Bangguo (C), chairman of the Standing Committee of the National People's Congress of China, meets with a U.S. Chamber of Commerce delegation led by President Thomas Donohue (4th L) in Beijing, capital of China, Jan. 13, 2009. (Xinhua Photo)
China will work with the incoming U.S. administration of President-elect Barack Obama to advance bilateral relations, top legislator Wu Bangguo said Tuesday.
Wu, chairman of the Standing Committee of the National People's Congress (NPC), China's top legislature, was speaking in a meeting with president of the U.S. Chamber of Commerce Thomas Donohue.
Hailing the growth of Sino-U.S. relations in the past 30 years, Wu said the development of bilateral relations accords with fundamental interests of the two nations and the two peoples, and is the common responsibility of both nations for peace and the development of mankind.
China is ready to work with the new U.S. administration to deal with ties from strategic and long-term perspective, and to respect each other's core interests, he said.
He hoped the two nations would improve cooperation mechanisms, and properly resolve disputes, to jointly advance constructive and cooperative relations.
Wu said economic and trade relations play an important part in Sino-U.S. relations.
"China and the United States, as the largest developing nation and the largest developed nation respectively, enjoy strong economic complementarity," Wu said.
Mutually beneficial cooperation is the mainstream of Sino-U.S. economic and trade relations, he said. The two countries should make more efforts to increase cooperation especially during the current international financial crisis.
Donohue said the development of his country is closely linked with China's development.
The U.S. Chamber of Commerce would help to increase mutual trust and cooperation with China, so as to boost the development of bilateral relations.