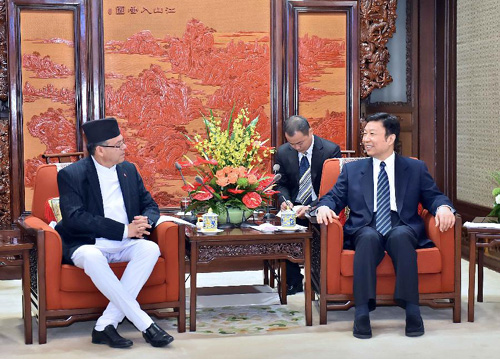 Chinese Vice President Li Yuanchao (R) meets with a delegation led by theCommunist Party of Nepal - Unified Marxist Leninist (CPN-UML)Chairman Jhalanath Khanal (L) in Beijing, capital of China, May 16,2014. (Xinhua/Li Tao)
Chinese Vice President Li Yuanchao met in Beijing on Friday with a Nepalese delegation led by Jhala Nath Khanal, chairman of the Communist Party of Nepal (United Marxist-Leninist).
Li said China and Nepal are friendly neighbors and the two sides have maintained mutual respect, mutual support and mutually beneficial cooperation.
The Communist Party of China and the Chinese government have viewed the bilateral relationship from a strategic height, he said.
He hoped that the two countries would enhance communication on governance experience and personnel training, and expand cooperation in areas of economic and trade, hydropower and infrastructure construction, to achieve long-term good-neighborliness and common development.
Khanal said Nepal will continue to adhere to the one-China policy and promote in-depth development of the bilateral friendship.